In addition to playing audio, you can also use audacity to analyze wave patterns e. We will use this tool to replay the data we will decode from the key fob. For replaying the signal, we use the rfcat library which is available here. The following will fetch the latest sources:. Decoding the signal Decoding the signal can be done in several ways. Type qualifiers in array parameters ISO C
| | |
| --- | --- |
| Uploader: | Nikozshura |
| Date Added: | 1 January 2006 |
| File Size: | 62.51 Mb |
| Operating Systems: | Windows NT/2000/XP/2003/2003/7/8/10 MacOS 10/X |
| Downloads: | 91826 |
| Price: | Free* [*Free Regsitration Required] |
Skip to content Since I bought my house a year ago, which has a built-in garage with a radio controlled garage door opener, I have played with the idea that some day I will learn the basics of radio and replicate the signal from my garage door key fob and open the garage door from a command line.
To make a recording of the signal from your key fob, you need to know which frequency it is operating on. Gear The gear I used to accomplish this project is listed below.
Package: cc1111 (2.9.0-7 and others)
For additional details on the capabilities of the CC chip, check out this information from the rfcat developers. Finally, the following code is my end result which allowed me to open my garage door from a CCEMK using rfcat and rfcat firmware. The hack is a cc111 combination of software defined radio techniques, ending with a successful attack. Numerous other new features and bug fixes are included as well. Type qualifiers in array parameters ISO C Since Audacity has the possibility to highlight data down to 1 ms, this made the process a whole lot easier.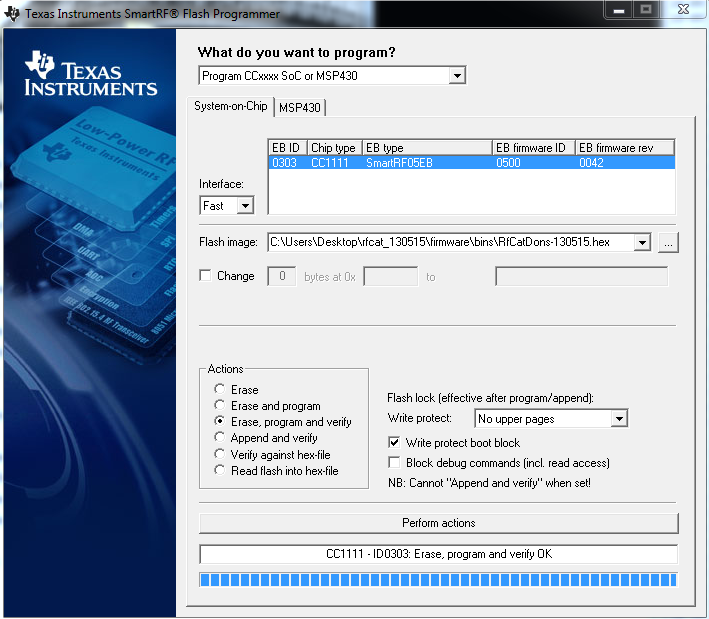 Since the whole bit stream consisted of sending packets 1 and 2 repeatedly 4 times, we are now done with the decoding stage and can continue with replaying the data. And there is an upgrade mode available at power up.
Once you have finished flashing the CCEMK, we continue by capturing the signal from the oinux key fob.
Changed putchar prototype from void putchar char to int putchar int to improve standard-compliance and allow error llnux. The topic always fascinated me, but never enough to actually start studying or examining how it works.
Microchip requires that "The header files should state that they are only to be used with authentic Microchip devices" which makes them incompatible with the GPL. Short pulse length – Long cv1111 length short distance: You can download the release from: Improved handling of local bool variables in the mcs51 backend substantially reduces code size.
SDCC – Small Device C Compiler
Deprecated –nojtbound and the corresponding pragma. Merged upstream GNU binutils 2. Note that I no longer count short pulses linuz 0 and long pulses as 1, but every 1 ms as either 0 or 1, depending on whether the carrier i. We are only interested in the data between 2.
Before reporting a bug, please check your SDCC version and build date using the -v option, and be sure to include the full version string in your bug linuc. Two interesting methods that are not mentioned in the welcome screen, are: Adventures in sub-GHz RF land….
SDCC and the included support packages come with fair amounts of documentation and examples. The pattern after 3. The screenshot below displays two strong wide FM radio signals, llnux one is operating on the The official documentation i.
Debian — Details of package cc in stretch
To explore this, [Gordon] took a look at attacking radio controlled outlets. I have made a GIF below to illustrate this. The keyfob used in this guide did not make use of a preamble, so we disable it. This is done by adjusting the squelch parameter, as shown in the below screenshot. The latest development source code can be accessed using Subversion.
You can browse the Subversion repository here.
I have attempted to keep it strictly to the point and without involving too much detail.